How to Identify 4 Common Bromeliad Diseases
Author: Melanie Dearringer29 Comments

Many problems commonly attributed to diseases are the result of unfavorable growing conditions. Bad potting mix and overwatering can cause many bromeliads to rot. Plants subjected to mechanical injury, insects, or sunburn may be invaded by one of many fungi. A wide variety of diseases are reported on bromeliads, but with decent culture most growers find the plants to be relatively pathogen free.
1. Root rot and crown rot, sometimes referred to as heart rot, are commonly caused by the same organism. Phytyophthera cinnamomi is a fungus that can be found in many potting soils and is the organism responsible for many cases of bromeliad rot. It is naturally kept at bay by a parasitic fungus called, Trichoderma. The problem occurs when the air loving Trichoderma is killed off by lack of oxygen. Overwatering your bromeliad and allowing the potting mix to remain sopping wet can stifle the oxygen level in the soil which smothers the helpful Trichoderma.
Signs of crown rot
Unpleasant odor emitting from the center of the plant
Crown appears brown and soggy
Leaves easily fall off with a gentle tug
2. Pythium is a genus of parasitic plant pathogens called Oomycetes. Pythium is also responsible for plant rot but primarily attacks the plant's root system. While Phytyphthera tends to be more picky about their hosts, Pythium will unbiasedly infect a wide range of hosts.
Signs of root rot
Dark, mushy roots
Discoloring (often a bland grayish-green color
Wilting
3. Helminthosporium leaf spot is another fungal disease caused by the organism Exserohilum rostratum. The spots first appear yellow and blister like. As the infection evolves, the spots will enlarge and become sunken and brown. A yellow border may still appear around the outer edge of the spot. In advanced stages, leaves can begin to collapse and hang from the bromeliad.
Signs of leaf spot
Small, water-soaked spots that are yellow in color
Brown, limp leaves
4. Rust disease appears as rust colored, liquid filled blisters on the underside of the bromeliad's leaves. The blisters will make their way through the leaves eventually showing as a white or for light yellow spot when viewed from the topside.
Signs of rust disease
Rust colored bumps on the underside of the bromeliad's leaves
White or light yellow spots on the upper sides of the leaves
Source
Wikipedia http://en.wikipedia.org/wiki/Pythium
Root rot & Heart rot http://www.bromsqueensland.com.au/sites/bsq.sites.go1.com.au/files/Heart%20Rot%20%26%20Root%20Rot%20V2013%20v2.pdf
Common Diseases and disorders of Bromelia http://www.plantfinder.com/Services/ARChase/bromelia.asp
Rust disease photo credit: eXtension.org via https://www.flickr.com/photos/extensionhorticulture/2864419874/
Leaf spot photo credit: Scot Nelson via https://www.flickr.com/photos/scotnelson/12837704205/
Featured image photo credit: Nico Nelson via https://www.flickr.com/photos/niconelson/12141720534/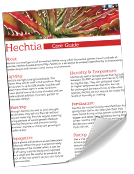 Resource Download
Hechtia Care Cheat Sheet
Learn how to care for your Hechtia bromeliad with this quick and easy informational guide.
Learn More

Ask an Expert
Questions about bromeliads?
Our experts love a challenge!