Bromeliad Insects Overview
Author: admin3 Comments
Few insects bother bromeliads, and those that do can be controlled. A number of scale insects can attack bromeliads. Appearing as small round or oval objects on the leaves, scale insects multiply rapidly. They make plants unsightly by producing yellow spots on the leaves where the insects suck plant juices. Mealybugs are a type of scale and are characterized by their cotton-wool protective covering. Mealybugs are the most common problem for indoor bromeliads. When mature, mealybugs vary from 1/5 to 1/3-inch long and have long wax filaments extending from the rear of the body.
Spider mites may also attack bromeliads. They are about 1/50-inch long when mature and may be greenish, yellowish, reddish or virtually colorless. Commonly found on the undersides of leaves, they suck juices from plants through their needle-like mouthparts. A 10- or 15-power hand lens is very helpful in detecting infestations before severe damage occurs.
After bringing a bromeliad home, isolate it for a month and carefully examine it for pests before placing it with other bromeliads. If a pest is found, either discard the plant or contact your county agriculture extension agent for recommendations on appropriate pest-control methods.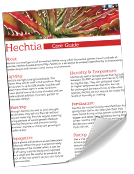 Resource Download
Hechtia Care Cheat Sheet
Learn how to care for your Hechtia bromeliad with this quick and easy informational guide.
Learn More

Ask an Expert
Questions about bromeliads?
Our experts love a challenge!