Bromeliad Plant Growing Specifications – Neoregelia carolinae 'Tricolor'
Author: admin1 Comment
Blooming, Care and Culture, Growing Indoors, Growing Outdoors
This article provides information on the specific growing guidelines for Neoregelia carolinae 'Tricolor' bromeliads.
Light: Bright light with a half day of direct sun year-round. Responds well to being grown in a sunny yet humid place outdoors in the summer.
Temperature: Average to warm room temperatures (65-80 degrees F 18-27 degrees C), with no chilling below 50 degrees F (10 degrees C).
Fertilizer: Feed monthly with a high-phosphorous (low-nitrogen) fertilizer mixed at half the normal strength. Feed the leaves, roots, and reservoir.
Water: Keep roots lightly moist, and replenish water in reservoir every 10 days, or more often in summer. This bromeliad grows best in high humidity, above 50 percent.
Soil: Potting soil amended with one-third part peat moss, or African violet soil.
Repotting: Repot annually in spring until plant fills a 5 in (12.5 cm) pot.
Longevity: Individual plants live 3 to 4 years.
Propagation: Wait until the parent plant dies to pot up offsets, which often have very skimpy roots. Keeping newly potted offsets in a warm, humid enclosure, such as a roomy plastic bag, speeds the rooting process.
Selections: There are numerous named varieties, most of which have cream stripes in their leaves. 'Martin' is quite vigorous, as is the slightly small 'Compacta.'
Display Tips: Because of its large, spreading shape, this bromeliad needs plenty of space. It is at its best when viewed from above.
For more information on Neoregelia carolinae 'Tricolor', check out my post on Popular Bromeliad Plant – Neoregelia carolinae 'Tricolor'.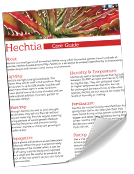 Resource Download
Hechtia Care Cheat Sheet
Learn how to care for your Hechtia bromeliad with this quick and easy informational guide.
Learn More

Ask an Expert
Questions about bromeliads?
Our experts love a challenge!