Common Insects Found on Bromeliads
Author: admin1 Comment
Bromeliads, as with all plants, are susceptible to certain kinds of insects and bugs. The insects you encounter may be different than other bromeliad owners depending on your regional climate, location and type of bromeliad plant.
Common Bromeliad Insects
Many of the insects listed below are most commonly found insects on bromeliads in the the southern states of Florida, Georgia, Alabama, Mississippi and Lousianna and Virginia.
Leafminers
Grasshoppers
Moths
Nematodes
Snails and slugs
Mosquitoes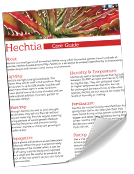 Resource Download
Hechtia Care Cheat Sheet
Learn how to care for your Hechtia bromeliad with this quick and easy informational guide.
Learn More

Ask an Expert
Questions about bromeliads?
Our experts love a challenge!