Indoor Bromeliad Gardens with Containers
Author: Melanie DearringerNo Comments
This is an informational write-up about bromeliad plant gardens indoors and how to pick a combination of colors and plant containers.
We all like to have color indoors. It may be at Christmas time with potted poinsettias or at others times of the year with some cut flowers arranged in a simple vase. The problem is – cut flowers usually only last for a week to 10 days. A potted plant like the poinsettia or an orchid a little longer–a month or two. How can you add some color that will last for months and months? Create your own Bromeliad garden. It may be a little work but what an impact.
First, find a nice decorative planter, it can be made out of plastic, clay, ceramic, fiberglass or even a basket. You can use a variety of pots sizes for your garden. For example, an 8 inch planter can hold three 4 inch pots. A 12-15 inch planter can hold three 6 inch pots very comfortably.
Now go down to the garden center and pick out 3 plants that will make the perfect combo for your room. Bring the plants back and arrange all 3 into your decorative planter. If the planter is to deep you may need to raise the plants up with some Styrofoam.
Care for each plant individually. Most Bromeliads will carry good color for 3-6 months depending on the variety. If one starts to fade out you can just pull that pot out and replace it with a new one and… you've got a new look.
Pretty simple. Go ahead. Get creative and you can have color all year!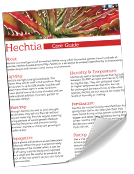 Resource Download
Hechtia Care Cheat Sheet
Learn how to care for your Hechtia bromeliad with this quick and easy informational guide.
Learn More

Ask an Expert
Questions about bromeliads?
Our experts love a challenge!