Cryptanthus Acaulis Bromeliad Flower
Author: adminNo Comments
Care and Culture, Classification
This small species is happier in fairly strong light, where it grows into a rosette about 3 inches (7.5cm) across.
Consisting of a dozen or so leaves, red-brown, stiff and wavy-edged, with tiny grey scales on their surface. It survives much drier conditions than many other earth stars.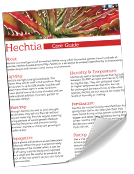 Resource Download
Hechtia Care Cheat Sheet
Learn how to care for your Hechtia bromeliad with this quick and easy informational guide.
Learn More

Ask an Expert
Questions about bromeliads?
Our experts love a challenge!