Billbergia Pyramidalis Bromeliad
Author: admin1 Comment
Care and Culture, Classification
This Brazillian species differs from most others in the genus in that it flowers low down in the center of the rosette.
The flower head of pink and purple is enclosed in an open flattish rosette of grey-green leaves, each 2 inches (5cm) wide and 10 in. (25cm) long, with rather blunt tips. The offsets are produced on strong 4-6 inch (10-15cm) stolons and, if not removed, a plant can soon cover quite a large area. The variety concolor has pale green, glossy leaves and a central flower head of "dayglo" pink.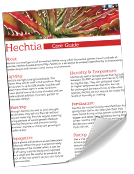 Resource Download
Hechtia Care Cheat Sheet
Learn how to care for your Hechtia bromeliad with this quick and easy informational guide.
Learn More

Ask an Expert
Questions about bromeliads?
Our experts love a challenge!