Cryptanthus Bivittatus Bromeliad
Author: adminNo Comments
Care and Culture, Classification
Frequently grown, particularly in bottle gardens, this is one of the smaller species. It forms a rosette of 15-25 leaves, 2-3 in. (5-7.5cm) long and tapering to a point, with the edges waved and spined.
In shade, the leaves are yellow-green with central and marginal stripes of dark green; in stronger light, they are tinged with bright pink, particularly at the base; and in bright light, the whole plant becomes reddish pink and loses much of the green.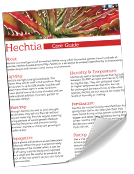 Resource Download
Hechtia Care Cheat Sheet
Learn how to care for your Hechtia bromeliad with this quick and easy informational guide.
Learn More

Ask an Expert
Questions about bromeliads?
Our experts love a challenge!