Cryptanthus Bromelioides Bromeliad
Author: adminNo Comments
Care and Culture, Classification
This is more upright in growth than most members of the genus, and has stiff, tapering, recurving, brown leaves produced at short intervals up a rigid stem, with a total spread of about 1 foot (30cm).
The species itself is not very often seen, but the variety tricolor is a popular houseplant. In this, the leaves are beautifully variegated with longitudinal stripes of green, brown and cream and shaded bright pink over much of the surface. It needs strong light to bring out the best colors. A peculiarity seems to be its extreme shyness of flowering, although offsets are freely produced from the leaf axils throughout the year.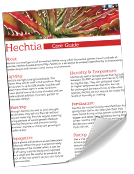 Resource Download
Hechtia Care Cheat Sheet
Learn how to care for your Hechtia bromeliad with this quick and easy informational guide.
Learn More

Ask an Expert
Questions about bromeliads?
Our experts love a challenge!