Cryptanthus Fosterianus Bromeliad
Author: adminNo Comments
Care and Culture, Classification
This is one of the largest species, sometimes attaining 2 ft (60cm) across. To reach this size, it really needs a minimum temperature of 70 degrees F (21 degrees C) and very rich compost.
However, it will easily grow to 1 foot (30cm) in diameter with 60 degrees F (15 degrees C). The dozen or so long tapering leaves that comprise the rosette are mainly red-brown, adorned with numerous zig-zag silver bands across the face, and are very stiff, almost artificial looking. Like all Cryptanthus, it is a good plant for a bromeliad tree. There are man hybrids of this zebra-like species.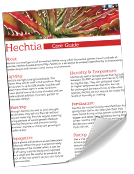 Resource Download
Hechtia Care Cheat Sheet
Learn how to care for your Hechtia bromeliad with this quick and easy informational guide.
Learn More

Ask an Expert
Questions about bromeliads?
Our experts love a challenge!