Cryptanthus Roseus Bromeliad Flower
Author: admin1 Comment
Care and Culture, Classification
This small earth star delights in a shady position. It makes a rosette of 20-30 very narrow, pointed, wavy-edged leaves in a delicate cafe-au-lait color, shaded pink at their bases.
The rosette is 3 in. (7.5cm) across, long-lasting and, with its many leaves, producing a large number of offsets which are easily grown on.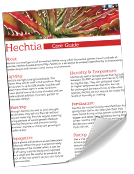 Resource Download
Hechtia Care Cheat Sheet
Learn how to care for your Hechtia bromeliad with this quick and easy informational guide.
Learn More

Ask an Expert
Questions about bromeliads?
Our experts love a challenge!