Cryptanthus Zonatus Bromeliad Plant
Author: admin2 Comments
Care and Culture, Classification
This Brazilian species has broad,very stiff, wavy leaves with striking zebra-like banding.
There are a number of varieties with different colored leaves, including viridis, green with silver bands, and fuscus, red-brown with silver bands. All need good light and a minimum winter temperature of 55 degrees F (13 degrees C).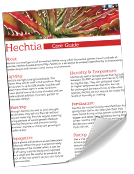 Resource Download
Hechtia Care Cheat Sheet
Learn how to care for your Hechtia bromeliad with this quick and easy informational guide.
Learn More

Ask an Expert
Questions about bromeliads?
Our experts love a challenge!