Hohenbergia Bromeliad Plant Species
Author: adminNo Comments
Blooming, Care and Culture, Classification
Hohenbergia (hoe-en-berj'ea) – Belonging to the Bromelioideae subfamily; very few of the forty-five species can be found in cultivation as they are too large and their inflorescences are colorless and uninteresting.
Hohenbergia stellata is the exception with its brilliant red inflorescence which lasts for many months.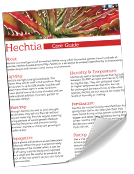 Resource Download
Hechtia Care Cheat Sheet
Learn how to care for your Hechtia bromeliad with this quick and easy informational guide.
Learn More

Ask an Expert
Questions about bromeliads?
Our experts love a challenge!