Greigia Bromeliad Plant Species
Author: admin2 Comments
Blooming, Care and Culture, Classification
Greigia (grayg'ea) – Belonging to the Bromelioideae subfamily; twenty-eight species of these large terrestrial plants have been identified.
Greigias are rare in cultivation as they grow in cool moist cloud forests at elevations of 2500-4000 m and are difficult to grow at low elevations. Unlike other bromeliads they do not die after flowering but continue to bloom every year from the same rosette.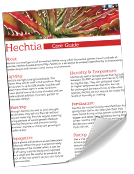 Resource Download
Hechtia Care Cheat Sheet
Learn how to care for your Hechtia bromeliad with this quick and easy informational guide.
Learn More

Ask an Expert
Questions about bromeliads?
Our experts love a challenge!