Interiorscape Basics – Part Three
Author: adminNo Comments
Care and Culture, Classification, Growing Indoors
Just as is true in outdoor gardens, every interiorscape is unique. However, a few simple guidelines are useful for creating orderly interiorscapes in which the plants appear to belong exactly where they have been placed.
Ornaments
Tabletop plants often appear more refined in the company of small statuary, paperweights, candles, or a bowl or fresh fruit. To add more color and texture, you can use a decorative placemat to make the setting complete. In narrow passageways, mirrors work magic maximizing the presence of plants.
Expanding Horizons
You can get more interiorscaping ideas by visiting places where plants are artfully used. This happens automatically when you become interested in houseplants, because you suddenly notice plants that were there all along in malls, airports, hotel lobbies, plant and floral shops, cafe's, and other people's homes and offices. When you find yourself marveling at the genius of the human who came up with a lovely interiorscape, consider this alternative interpretation: We may think we are in charge of plants, since we decide where and how they will be grown, but they also control us, nudging us to do their bidding by prospering in hospitable places and cleverly using their beauty and health-enhancing talents to win our favor. In the most wonderful interiorscapes, plants have been given everything they need by caring human hands. In return, they give us clean air, invigorating views, and happy hearts. It is, in all the important ways, a very fair deal.
For more information on Interiorscape Basics, check out Part One and Part Two!
Source
Pleasant, Barbara. The Complete Houseplant Survival Manual: Essential Know-How for Keeping (Not Killing) More Than 160 Indoor Plants: Storey Publishing LLC, 2005. Print.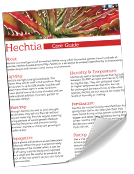 Resource Download
Hechtia Care Cheat Sheet
Learn how to care for your Hechtia bromeliad with this quick and easy informational guide.
Learn More

Ask an Expert
Questions about bromeliads?
Our experts love a challenge!