The Bromeliad Plant Family
Author: adminNo Comments
Blooming, Care and Culture, Classification, Growing Indoors, Growing Outdoors
The bromeliad family consists of approximately 2550 known species with more being discovered.
These highly desirable plants can be found from the southern United States to as far south as Argentina. To discuss them generally on this blog would be ineffective unless we can recognize the various grouping used by the collector and horticulturist to identify and describe the numerous plants available.
Bromeliads can be broken down to three subfamilies, namely Pitcairnioideae, Tillandsioideae and Bromelioideae, and then different genera within these subfamilies.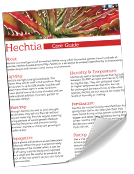 Resource Download
Hechtia Care Cheat Sheet
Learn how to care for your Hechtia bromeliad with this quick and easy informational guide.
Learn More

Ask an Expert
Questions about bromeliads?
Our experts love a challenge!