Bromeliad Subfamily – Pitcairnioideae
Author: admin1 Comment
Care and Culture, Classification, Growing Indoors, Growing Outdoors
Pitcairnioideae (pit-cairn-ee-oy'dee-ee) has seventeen genera, which in turn subdivide into almost 900 species. The following list is the different kinds of genera that belong to the subfamily Pitcairnioideae, and links to their subdivided species!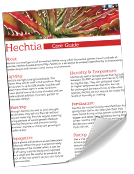 Resource Download
Hechtia Care Cheat Sheet
Learn how to care for your Hechtia bromeliad with this quick and easy informational guide.
Learn More

Ask an Expert
Questions about bromeliads?
Our experts love a challenge!