Making A Bromeliad Tree – Part Two
Author: adminNo Comments
Care and Culture, Classification, Growing Indoors
Provision should be made for medium-sized bromeliads by nailing some curved pieces of bark to form pockets, which will contain the roots.
Aechmea, Billbergia, Neoregelia and Nidularium can be planted in these pockets, using a mixture of sphagnum moss and moss peat and covering the surface with a layer of sphagnum moss alone. Epiphytic and xerophytic plants are prepared by covering their roots with a ball of sphagnum moss and tying or nailing these to the bark tree. Some of the very grey-leaved Tillandsia may be attached simply by gluing the base on to the bark with silicone adhesive.
For more tips and information of how to make a tree for a bromeliad, be sure to check out my other related posts Making A Bromeliad Tree – Part One, and Making A Bromeliad Tree – Part Three!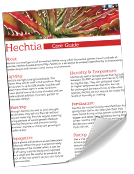 Resource Download
Hechtia Care Cheat Sheet
Learn how to care for your Hechtia bromeliad with this quick and easy informational guide.
Learn More

Ask an Expert
Questions about bromeliads?
Our experts love a challenge!