Natural Houseplant Pesticide – Neem
Author: adminNo Comments
Blooming, Care and Culture, Classification, Growing Indoors, Growing Outdoors
Before using any pesticide on a houseplant, carefully read the product's label to make sure it is appropriate for both the pest and the plant.
What is it – Neem is a natural pesticide made from a tree that makes pests stop feeding, and also interferes with maturation processes. Neem also deters several fungal diseases.
Precautions – It can safely be applied indoors. Products often have neem in their name, or you can check the label for azadirachtin, the active ingredient.
Plants Often Sensitive To Neem:
African Violet
Begonia
Crown of Thorns
Ferns (not all are sensitive)
Geranium
Ivy
Jade Plant (and other succulents)
Palms
Schefflera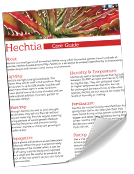 Resource Download
Hechtia Care Cheat Sheet
Learn how to care for your Hechtia bromeliad with this quick and easy informational guide.
Learn More

Ask an Expert
Questions about bromeliads?
Our experts love a challenge!