Synthetic Pesticide – Orthene
Author: adminNo Comments
Blooming, Care and Culture, Classification, Growing Indoors, Growing Outdoors
Before using any pesticide on a houseplant, carefully read the product's label to make sure it is appropriate for both the pest and the plant.
What is it – Orthene (acephate) is a synthetic pesticide that is toxic to most insects.
Precautions – It can be applied indoors. Still, check the label, because it can cause leaf damage to some plants (see list below).
Plants Sensitive To Orthene:
African Violet
Chrysanthemum
Ferns
Ficus
Geranium
Nerve Plant
Palms Piggy-back Plant
Poinsettia
Prayer Plant
Schefflera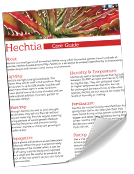 Resource Download
Hechtia Care Cheat Sheet
Learn how to care for your Hechtia bromeliad with this quick and easy informational guide.
Learn More

Ask an Expert
Questions about bromeliads?
Our experts love a challenge!