Neoglaziovia Bromeliad Plant Species
Author: adminNo Comments
Blooming, Care and Culture, Classification
Neoglaziovia (ne'o-gla-zee-o'vee-a) – Belonging to the Bromelioideae subfamily; rare in cultivation, three species are identified.
A succulent type leaf is the hallmark of these species with inflorescences whose flowers are purple or violet. Neoglaziovia variegata has leaves which are green on the upper side and wide, white, cross banding on the underside. It is worth collecting when offered for sale!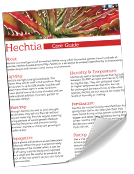 Resource Download
Hechtia Care Cheat Sheet
Learn how to care for your Hechtia bromeliad with this quick and easy informational guide.
Learn More

Ask an Expert
Questions about bromeliads?
Our experts love a challenge!