Neoregelia Bromeliad Plant Species
Author: adminNo Comments
Blooming, Care and Culture, Classification
Neoregelia (nee-o-ree-jeel'ya) – Belonging to the Bromelioideae subfamily; around ninety-four species have been described, mainly native of eastern Brazil.
They are medium-sized, compact plants growing terrestrially or on lower limbs of trees in shaded areas. No bromeliad can offer a wider variety of leaf-texture or a selection of such colors! They are one of the most prized possessions in one's collection because of the large range of colors and sizes available. Neoregelias have been used extensively for hybridizing and the results have produced some truly remarkable plants. They range in size from vry small plants 12 cm high and 2.5 cm in diameter to plants 1.2 m in diameter (Neregelia pascoaliana).
The inflorescence forms a compound head nestled in the center of the rosette and the flowers usually have blue or white petals. Neoregelias grow well in cultivation and reward the collector with a flush of color at maturity that has to be seen to be believed. Well worth the effort in obtaining the best possible varieties available!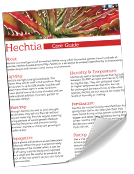 Resource Download
Hechtia Care Cheat Sheet
Learn how to care for your Hechtia bromeliad with this quick and easy informational guide.
Learn More

Ask an Expert
Questions about bromeliads?
Our experts love a challenge!