Nidularium Bromeliad Plant Species
Author: adminNo Comments
Blooming, Care and Culture, Classification
Nidularium (nid-u-lar'ium) – Belonging to the Bromelioideae subfamily; a small genus comprising 42 species, all native to eastern Brazil.
Nidulariums are medium-sized plants with inflorescences forming low in the center of the rosettes. At flowering time the collaret of shortened inner leaves turns brilliant red, rose or cerise, depending on the species. The flowers are red, white or blue and the leaves are usually glossy and finely spined.
In some varieties the inflorescence rises above the plant and creates a striking picture. Nidularium seidelii is such a plant, the inflorescence rising approximately 30 cm above the flattened foliage, with bracts forming large yellow-green boat like shapes atop each other. The inflorescence can last several months. Nidulariums are hardy and reward growers with good formations and regular flowering.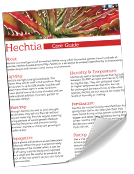 Resource Download
Hechtia Care Cheat Sheet
Learn how to care for your Hechtia bromeliad with this quick and easy informational guide.
Learn More

Ask an Expert
Questions about bromeliads?
Our experts love a challenge!