Ochagavia Bromeliad Plant Species
Author: adminNo Comments
Blooming, Care and Culture, Classification
Ochagavia (och-a-gah'vi-a) – Belonging to the Bromelioideae subfamily; three species are known to exist. Succulent type plants with a clustering habit, growing on rocks or terrestrially.
One species, Ochagavia carnea, is found in general cultivation. It is a small plant whose inflorescence, the size of a tennis ball, is covered with red bracts and born on a short scape. The flowers are pink with yellow stamens that protrude beyond the petals. A hardy plant worth collecting.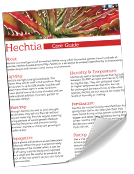 Resource Download
Hechtia Care Cheat Sheet
Learn how to care for your Hechtia bromeliad with this quick and easy informational guide.
Learn More

Ask an Expert
Questions about bromeliads?
Our experts love a challenge!