Orthophytum Bromeliad Plant Species
Author: adminNo Comments
Blooming, Care and Culture, Classification
Orthophytum (och-a-gah'vi-a) – Belonging to the Bromelioideae subfamily; consists of around 23 species and is relatively unknown.
Found growing as clusters on rock faces in warm sunlight in mountainous regions of Brazil. They are semi-succulent plants and all species have white flowers and green or copper colored leaves with soft spines. Four plants are usually found in cultivation, namely Orthophytum vagans, Orthophytum rubrum, Orthophytum saxicola and Orthophytum naioides. All are hardy and require little attention, demanding only plenty of light.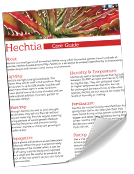 Resource Download
Hechtia Care Cheat Sheet
Learn how to care for your Hechtia bromeliad with this quick and easy informational guide.
Learn More

Ask an Expert
Questions about bromeliads?
Our experts love a challenge!