Popular Bromeliad Plant – Vriesea Splendens And Hybrids
Author: admin2 Comments
Classification, Growing Indoors, Growing Outdoors
This article provides you with a specific profile of the popular bromeliad plant known as Vriesea splendens and hybrids.
Vriesea splendens (VREE-see-uh SPLEN-dens) – Also known as the "Flaming Sword, Painted Feather, and Zebra Bromeliad." One of the showiest bromeliads, flaming sword features stiff, arching leaves banded with maroon, which form a tight vase in the center. Mature plants grow 20 in (50 cm) tall and 24 in (60 cm) wide. Flaming sword is not as easy to grow as some other bromeliads, but it will succeed when provided with bright light, warm temperatures, and moderate to high humidity. If all goes well, a 3 to 4 year old plant will reward you with a tall, flattened flower spike, which is usually bright red, with small yellow flowers emerging from the bracts. The spike persists for several weeks, after which the plant slowly declines while producing one or more offsets. Wait until the parent plant is quite far gone to propagate a new plant from the pup.
For more information about Vriesea splendens and hybrid bromeliads, check out my post on Bromeliad Plant Growing Specifications – Vriesea Splendens And Hybrids!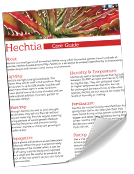 Resource Download
Hechtia Care Cheat Sheet
Learn how to care for your Hechtia bromeliad with this quick and easy informational guide.
Learn More

Ask an Expert
Questions about bromeliads?
Our experts love a challenge!