Bromeliad Plant Growing Specifications – Vriesea Splendens And Hybrids
Author: admin7 Comments
Blooming, Care and Culture, Growing Indoors, Growing Outdoors
This article provides information on the specific growing guidelines for Vriesea Splendens and hybrid bromeliads.
Light: Bright indirect light year-round, with some direct sun in the winter.
Temperature: Warm (70-80 degrees F or 21-27 degrees C) year-round.
Fertilizer: Feed monthly with an all-purpose houseplant fertilizer mixed at half the normal strength. Feed the leaves, roots, and reservoir.
Water: Keep soil lightly moist at all times, and refill reservoir every 2 weeks with fresh water. Mist weekly, and keep in a humid room.
Soil: Bromeliad mix or orchid potting soil.
Repotting: Repot young plants after 2 years, and limit pot size for mature plants to 6 in (15 cm).
Longevity: Individual plants live for 3 to 4 years.
Propagation: After flowering, this bromeliad usually produces one robust pup. Allow it to grow until it is at least 8 in (20 cm) tall before detaching it., potting it up, and discarding the parent plant.
Selections: There are many named varieties, which may vary in leaf variegation and the shade of the flowering spike. Purchase plants that have not yet bloomed, or have just begun to produce a flowering spike.
Display Tips: The dramatic leaf colors make this plant a strong focal point even when it is not in bloom. Because of its width, it is a good plant to display on a raised platform, with smaller ferns or other low-light plants beneath it.
For more information about Vriesea Splendens and hybrid bromeliads, check out my post on the Popular Bromeliad Plant – Vriesea Splendens and Hybrids!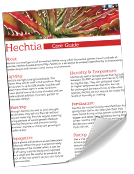 Resource Download
Hechtia Care Cheat Sheet
Learn how to care for your Hechtia bromeliad with this quick and easy informational guide.
Learn More

Ask an Expert
Questions about bromeliads?
Our experts love a challenge!