Troubleshooting Bromeliad Plants – Part One
Author: admin2 Comments
Blooming, Care and Culture, Growing Indoors, Growing Outdoors
In this post I've come up with a list of common problems for Bromeliad plants, the cause of the problem, and a way to remedy your problem(s)!
Problem: Tips of leaves turn brown.
Cause: Conditions are too hot or too dry. In winter, increase humidity by placing plant near a humidifier or try misting it every other day. In the summer, move plant to a shady place outdoors. Use a spray bottle to water the leaves, reservoir, and roots of the plant. Bromeliad pots should never be allowed to become completely dry.
Problem: Brown spots on leaves.
Cause: Sunburn.
Remedy: Expose plants to direct sun gradually, especially in the summer when sunlight is very intense.
Problem: Plant rots at the base without blooming.
Cause: Soil is too wet; insufficient air circulation.
Remedy: Plants that develop root rot often cannot be saved.
Problem: Plant does not bloom.
Cause: Immature; receives insufficient light.
Remedy: Move to a slightly brighter location. Keeping plants in small containers helps encourage flower formation. Most bromeliads do not bloom until they are at least 3 years old. Check out the Bromeliad Fertilizer post for more tips on promoting bromeliad flowers.
For more information on troubleshooting your Bromeliad, check out Part Two!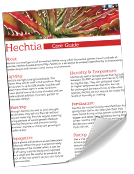 Resource Download
Hechtia Care Cheat Sheet
Learn how to care for your Hechtia bromeliad with this quick and easy informational guide.
Learn More

Ask an Expert
Questions about bromeliads?
Our experts love a challenge!