Troubleshooting Bromeliad Plants – Part Two
Author: admin8 Comments
Blooming, Care and Culture, Growing Indoors, Growing Outdoors
In this post I've come up with a list of common problems for Bromeliad plants, the cause of the problem, and a way to remedy your problem(s)!
Problem: Flower spike rots at the base.
Cause: Too much water in the reservoir.
Remedy: Reduce the amount of water placed in the reservoir after the flower spike emerges. Instead, water plants by spraying the leaves until thoroughly wet, then dribbling water into the pots.
Problem: Offsets die without rooting.
Cause: Offsets taken when too small; humidity too low.
Remedy: Wait until the parent plant is nearly dead to remove pups. For the first 3 to 4 weeks after repotting offsets, enclose them in a plastic bag to maintain very humid conditions.
Problem: Brown disks on leaves.
Cause: Scale insects.
Remedy: These sucking insects occasionally infest bromeliads. Gently remove by hand by scraping them off with your fingernail. Repeat every few days, then spray plants with an insecticidal soap after testing plant for tolerance.
Problem: White woolly patches on leaves, especially in crevices between leaves.
Cause: Mealy bugs.
Remedy: Mealy bugs are an occasional problem on bromeliads. Remove with a cotton swab dipped in alcohol; repeat every 3 days until the plans are clean.
For more information on troubleshooting your Bromeliad, check out Part One!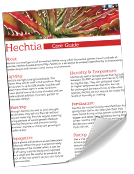 Resource Download
Hechtia Care Cheat Sheet
Learn how to care for your Hechtia bromeliad with this quick and easy informational guide.
Learn More

Ask an Expert
Questions about bromeliads?
Our experts love a challenge!