Pots and Containers – Drainage
Author: adminNo Comments
Blooming, Care and Culture, Classification, Growing Indoors, Growing Outdoors
Whatever their size or shape, containers for plants must have drainage holes in the bottom through which excess water can escape.
Drainage
Several mid-sized drainage holes are better than one large one. Many gardeners place a piece of screen over the holes to keep soil from coming out along with excess water, but it is better to leave the holes unobstructed. That way, you can check for the presence of roots growing out of the bottom of the pot, and if drainage problems develop you can reopen the holes by poking them with a skewer, awl or pencil. If soil loss is a big concern, simply line the bottom of the pot with a thin layer of pebbles or broken crockery when repotting your plants. A half inch of loose pebbles or broken crockery improves drainage too.
Unfortunately, many beautiful brass, ceramic, or hand-thrown pottery planters do not include drainage holes. Holes can be drilled into plastic or fiberglass, but don't try this with fine ceramic or pottery. Instead, use these as cachepots; the term used to describe "containers for your containers." Take a look at NewProContainers.com, this website has a great variety of containers and supplies that you'll need (and want), in all kinds of sizes, materials, and shapes!
Place an inch of clean pebbles in the bottom of the cachepot, and set your plant in a container that can be slipped inside the drain-less one (it's common to use a thin plastic pot for the inner one). As long as water is not allowed to form a deep puddle that keeps plant roots too wet, this double-potting system works quite well. If you accidentally over-water, be sure to drain off any excess that pools up in the bottom of the cachepot.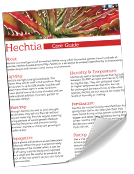 Resource Download
Hechtia Care Cheat Sheet
Learn how to care for your Hechtia bromeliad with this quick and easy informational guide.
Learn More

Ask an Expert
Questions about bromeliads?
Our experts love a challenge!