Pseudoananas Bromeliad Plant Species
Author: adminNo Comments
Blooming, Care and Culture, Classification
Pseudoananas (soo-do-a-nay'nus) – Belonging to the Bromelioideae subfamily; this is a monotypic genus and its species, Pseudoananas sagenarius, is commonly called the false pineapple.
It is very similar to the genus Ananas but is more robust and generally larger. The flattened, succulent inflorescence protrudes above the foliage about 30 cm and is 15-20 cm long, bearing pink bracts and lavender flowers. The fruit is edible and quite tasty, but unlike the genus Ananas, is not grown commercially. A worthwhile plant if you have space.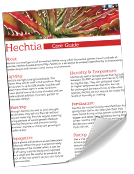 Resource Download
Hechtia Care Cheat Sheet
Learn how to care for your Hechtia bromeliad with this quick and easy informational guide.
Learn More

Ask an Expert
Questions about bromeliads?
Our experts love a challenge!