Quesnelia Bromeliad Plant Species
Author: admin2 Comments
Blooming, Care and Culture, Classification
Quesnelia (kwes-nail'ea) – Belonging to the Bromelioideae subfamily; fourteen species have been identified. Primarily terrestrials growing in the coastal swamps of eastern Brazil.
The larger varieties, Quesnelia arvensis for example, have large green rosettes with a floral head of brilliant pink or red. The smaller species are tubular in shape, resembling billbergias, and are found growing epiphytically or on rocks in coastal mountains.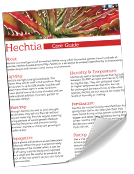 Resource Download
Hechtia Care Cheat Sheet
Learn how to care for your Hechtia bromeliad with this quick and easy informational guide.
Learn More

Ask an Expert
Questions about bromeliads?
Our experts love a challenge!