Ronnbergia Bromeliad Plant Species
Author: adminNo Comments
Blooming, Care and Culture, Classification
Ronnbergia (ron-ber'jee-a) – Belonging to the Bromelioideae subfamily; a small genus not usually grown, eleven species Ronnbergia columiana and Ronnbergia morreniana are generally cultivated.
A small to medium sized plant with a stoloniferous habit, the inflorescence forms a simple spike with blue-pedaled flowers.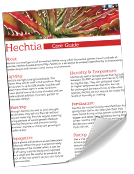 Resource Download
Hechtia Care Cheat Sheet
Learn how to care for your Hechtia bromeliad with this quick and easy informational guide.
Learn More

Ask an Expert
Questions about bromeliads?
Our experts love a challenge!