Fascicularia Bromeliad Plant Species
Author: adminNo Comments
Blooming, Care and Culture, Classification
Fascicularia (fasick-u-lar'ea) – Belonging to the Bromelioideae subfamily; this genus contains five species, which grow naturally in Chile, South America.
Extremely hardy, they like full sunlight and can withstand cool nights. In their natural habitat they grow in exposed areas near the sea, in soil or on rock cliff faces. At flowering time the leaves turn red at the center of the plant. Two species are found in cultivation, namely Fascicularia bicolor and Fascicularia pitcairniifolia.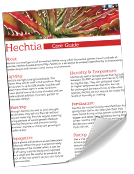 Resource Download
Hechtia Care Cheat Sheet
Learn how to care for your Hechtia bromeliad with this quick and easy informational guide.
Learn More

Ask an Expert
Questions about bromeliads?
Our experts love a challenge!