Fiberglass Containers
Author: adminNo Comments
Blooming, Care and Culture, Classification, Growing Indoors, Growing Outdoors
Designed to look like fine clay or ceramic, these are usually the pots of choice for formal living rooms.
Good-quality fiberglass containers can be costly (not all the time) but with a little care they will last a lifetime. Some contain enough metal to create a burnished finish, and fiberglass containers can be painted or antiqued if you want to make them fit a certain color scheme. Fiberglass containers are also quite lightweight, which makes them a top choice for large houseplants. I've found that the best place thus far for fiberglass pots and containers is NewProContainers.com. They have a variety of fiberglass containers that range in sizes and colors, and their prices are unbeatable! I highly recommend you check out this site if you are thinking about purchasing some fiberglass containers for your home or office decor.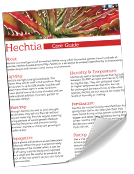 Resource Download
Hechtia Care Cheat Sheet
Learn how to care for your Hechtia bromeliad with this quick and easy informational guide.
Learn More

Ask an Expert
Questions about bromeliads?
Our experts love a challenge!