Pots and Containers – Materials
Author: adminNo Comments
Blooming, Care and Culture, Classification, Growing Indoors, Growing Outdoors
In this post I discuss the different kinds of materials used for flower pots and containers.
Materials
When purchased, most plants are growing in plastic containers. Plastic is light-weight, holds moisture well, and seldom breaks as plants are packed and shipped. There certainly are attractive plastic containers, but those supplied by greenhouse growers are more practical than pretty. Once a plant has had a few weeks to adjust to conditions in its new home, a container upgrade is usually in order. Possible materials include clay, better plastic, fiberglass, and ceramic. I purchase all of my containers from NewProContainers.com; they have such a wide variety of flower pots to choose from that range in many colors and materials.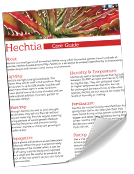 Resource Download
Hechtia Care Cheat Sheet
Learn how to care for your Hechtia bromeliad with this quick and easy informational guide.
Learn More

Ask an Expert
Questions about bromeliads?
Our experts love a challenge!