Plastic Pots
Author: adminNo Comments
Blooming, Care and Culture, Classification, Growing Indoors, Growing Outdoors
Always supplying superior moisture retention, plastic posts come in a variety of colors and finishes.
Those with a dull matte finish often must be tapped with a finger to see if they are ceramic or plastic! Many plastic pots also have snap-on trays, which do a great job of capturing water that drips from the bottoms of the pots (an especially desirable feature for hanging baskets). If you want a container in an unusual shape, such as an oblong box or certain size of pedestal, you are most likely to find it in plastic. I recommend checking out NewProContainers.com, they have a wonderful selection of plastic pots and containers that come in all sorts of colors, shapes, and sizes!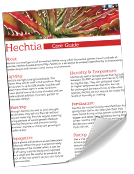 Resource Download
Hechtia Care Cheat Sheet
Learn how to care for your Hechtia bromeliad with this quick and easy informational guide.
Learn More

Ask an Expert
Questions about bromeliads?
Our experts love a challenge!