Getting To Know Eight Beautiful Bromeliads
Author: admin6 Comments
Classification, Growing Indoors, Growing Outdoors
In the following article, eight of the most popular, easy-to-grow bromeliads are described in detail. They are listed in alphabetical order by botanical name, but you may not know a bromeliad's botanical name if you bought it without benefit of an identification tag. The following chart will help you identify which bromeliad you have, so that you can then turn to the appropriate plant profile to get to know your bromeliad better.
Getting To Know Eight Beautiful Bromeliads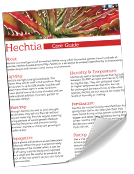 Resource Download
Hechtia Care Cheat Sheet
Learn how to care for your Hechtia bromeliad with this quick and easy informational guide.
Learn More

Ask an Expert
Questions about bromeliads?
Our experts love a challenge!