Troubleshooting Fertilizer Problems
Author: admin2 Comments
Blooming, Care and Culture, Growing Indoors, Growing Outdoors
Plants give you clear signs when they are receiving just the right amount of plant food. For instance, when older leaves have good color, and new leaves steadily appear, gradually attaining a size that compares with that of the older leaves, you've got the fertilizer routine just about right.
Before deciding that a plant is over or underfed, evaluate other variables such as light, temperature, and proper watering practices. The closer each of these conditions comes to a plant's ideal, the better its prospects for living a long, productive life. Below I've listed the indicators that you've either over or underfed your plant.
Signs Of Too Little Fertilizer
Weak new growth, in which new leaves are small and pale, is a classic sign of the too little fertilizer. Plants suffering from micro-nutrient deficiencies often show usual yellowing of tissues between leaf veins, or pale leaves with darker leaf veins. When starved plants are given one or two feedings with an appropriate plant food, their leaf color usually improves quickly, becoming greener in a matter of days.
Signs Of Too Much Fertilizer
A very dark, lush leaf with some browning or curling of leaf edges suggests too much fertilizer. Blooming houseplants may refuse to produce buds when given too much nitrogen.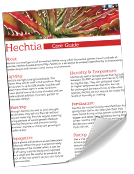 Resource Download
Hechtia Care Cheat Sheet
Learn how to care for your Hechtia bromeliad with this quick and easy informational guide.
Learn More

Ask an Expert
Questions about bromeliads?
Our experts love a challenge!