Popular Bromeliad Plant – Guzmania lingulata And Hybrids
Author: admin2 Comments
Classification, Growing Indoors, Growing Outdoors
This article provides you with a specific profile of the popular bromeliad plant known as Guzmania lingulata and hybrids.
Guzmania lingulata (goos-MAN-ee-uh lin-goo-LAH-tah) – Also known as the "Scarlet Star." Many older strains of scarlet star grew quite tall, but most modern named varieties are smaller, reaching a mature size of 10 inches (25 cm) tall and 12 in (30 cm) wide. This bromeliad has a rather upright posture, and its glossy green leaves add to its appeal. A flamboyant bloomer, in it third or fourth year scarlet star produces a brightly colored quill-like spike, which emerges just above the foliage in the plant's center. As the flower spike fades, usually 6 or more weeks after it appears, pups emerge from near the base of the plant. Although scarlet star appreciates high humidity, it is less demanding of light than other bromeliads, and often grows beautifully in the bright artificial light of offices.
For more information about Guzmania lingulata and hybrid bromeliads, check out my post on Bromeliad Plant Growing Specifications – Guzmania lingulata And Hybrids!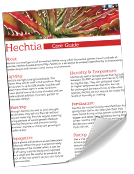 Resource Download
Hechtia Care Cheat Sheet
Learn how to care for your Hechtia bromeliad with this quick and easy informational guide.
Learn More

Ask an Expert
Questions about bromeliads?
Our experts love a challenge!