Classification
Bromeliaceae is a family of flowering plants with approximately 3,200 species that are mostly native to tropical America. Here you will find information on how to correctly identify different types of bromeliads and how their care requirements vary.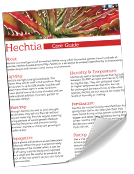 Resource Download
Hechtia Care Cheat Sheet
Learn how to care for your Hechtia bromeliad with this quick and easy informational guide.
Learn More

Ask an Expert
Questions about bromeliads?
Our experts love a challenge!