Growing Outdoors
Most bromeliads are native to tropical climates. Discover what temperature and light tolerance each genus prefers so you can grow the best variety for your particular location.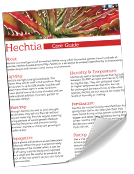 Resource Download
Hechtia Care Cheat Sheet
Learn how to care for your Hechtia bromeliad with this quick and easy informational guide.
Learn More

Ask an Expert
Questions about bromeliads?
Our experts love a challenge!